Your Digital Toolbox
14 Feb, 2022
5 Mins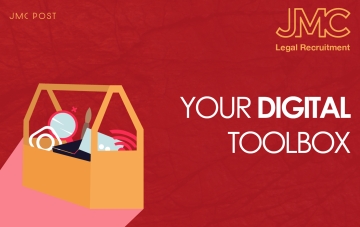 >> Do you know your Asana from your Trello?
>> Your Skype from your Google Meet?

>> Your Slack from your Zoho?

Remote working is popular. But if you're contemplating making the leap from the office to a remote job for the first time, you'll need to have the right digital skills.

It's all pretty simple, and the chances are you already use a few. But it's a good idea to be ready when your new line manager says, "just pop that file onto Slack for me and share the screen".

You don't need to go through every digital tool out there, but it's a good idea to become familiar with a few popular ones.

Here are a few digital skills to put in your digital toolbox:

Learn how to use a team chat app like Slack.

Know how to share a screen.
Get familiar with a video conferencing tool like Zoom.
Know your way around G Suite or Microsoft Office Online.
Cloud storage is essential for collaborative working.
Try out project management software for complex projects and managing workflow.
Oh, and if you do land that remote job, make sure you don't leave your laptop in a cafe with sensitive information in unprotected files. Get good security on there, so if your laptop gets into the wrong hands, the data is protected.