Post-Pandemic In-House Legal Trends
13 Sep, 2022
3 Mins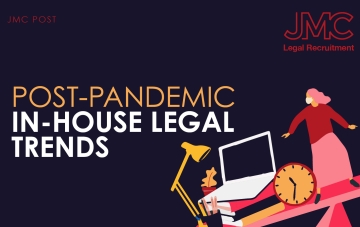 Post-pandemic in-house legal trends
The COVID-19 pandemic forced the in-house legal industry to adapt. Changes came thick and fast for a while. Spare bedrooms, dining room tables and sheds became makeshift offices. Meetings and job interviews were on Zoom, and new laws and regulation meant companies had to adapt quickly to keep up with their legal responsibilities. Here are six in-house legal trends that have emerged and may well be here to stay.

Remote working

Before the pandemic, many companies steered clear of remote working technology. Now, many companies see remote working as a viable and financially sensible long-term business solution and it's one of the most popular legal trends. Remote working is not a solution for every situation. It works best when employees are self-motivated, highly engaged in their work, and responsible for their own productivity without supervision - something lawyers are pretty good at.

Training opportunities

Training and skills development is an essential part of any in-house legal team's toolkit. It's not just about skilling up the legal team, but offering personal development and career growth for individual in-house lawyers too. The rapid expansion in online courses and online business coaches can bring top business and legal talent, and targeted legal courses into the workplace from across the globe.

Innovation and technology

Technology is changing the legal industry. It's also changing the way we work and practice law, helping us focus on what matters most to clients. The right tools can help in-house counsel be more efficient and effective at every stage. Integrations like automated contract platforms with e-signature capabilities enable in-house legal teams to spend less time on administrative tasks so they can focus on providing the legal support to their single client - the company.

Flexibility and wellbeing

A 2016 study by the American Bar Association's Section of Legal Education and Admissions to the Bar found that 72 percent of in-house lawyers identified work-life balance as their top priority when looking for jobs. It's clear from the in-house legal jobs coming through JMC Legal Recruitment that more companies are recognising the importance of including flexible hours and a better work-life balance as an incentive to attract top in-house lawyers to their company - not just a healthy pay package.

Collaboration

You also need to understand how your decisions may affect other departments and the broader organisation. Collaboration is not just about departments communicating, but about understanding their functions and goals, so you can provide useful advice based on an accurate picture of what's happening.

Diversity priority

Diversity, Equity & Inclusion (DE&I) is one of the most important aspects of in-house legal today. It's necessary for organisations to have a diverse workforce so it can better serve its diverse customers and clients. DE&I allows companies to tap into new sources of talent and ideas, which helps them grow.

The in-house legal industry is changing and will continue to do so. In-house lawyers need to keep up with these trends to make themselves an indispensable part of their company. If you are looking for an in-house legal job, or a company wanting to fill an in-house legal role, we are ready and here to help, so get in touch.

Written by Jason Connolly