In House Matchmaking
22 Aug, 2022
5 Mins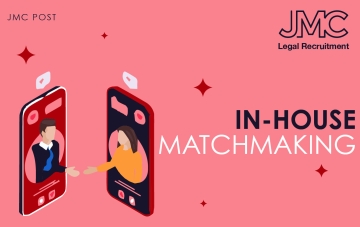 The nature of in-house legal work depends on the sector, whether you're looking for roles in commerce, industry, government or charities. But ultimately, companies are looking for their in-house lawyer to save them money. For lawyers, going in-house means a shift from what's expected at a typical law firm and going from working with multiple clients to just one. It's a role many lawyers find appealing, and more companies are opting to move their legal requirements in-house. Here, we look at how to match values and skills, so the right lawyer lands a job at their dream company.
In-house Legal Experience
A common requirement for an in-house role is to ask for 3-5 years in-house experience. There's an obvious reason companies ask for this - they want to bring someone in who understands how businesses operate and will have corporate legal experience so there's no steep learning curve. If you're looking to get your first in-house lawyer job, you won't have that experience, so you need a different approach to eliminate the doubts they may have. Demonstrate your business acumen and corporate law experience with examples. Get to know the company you want to work for inside out. Approach companies you've already worked with and let them know you're looking to make a move in-house.
Technology companies and business start-ups are increasingly looking to take on in-house counsel and more junior opportunities are coming up both in the corporate and public sector. So there's greater flexibility in the job requirements which means more opportunities.
Location, location, location
Many in-house lawyers don't want to work full time in the office. Some companies may put geographical limits on the lawyers they want, so they can be in the office quickly and easily five days a week. This mismatch can lead to problems for companies hoping to hang on to talented in-house lawyers when there is competition out there, especially from technology-focused companies who are more used to hybrid working.
There is also an increasing number of in-house roles outside of London in regions like Birmingham, Manchester and Bristol. If you don't want a long commute into central London but don't mind a few days in the office each week, then regions and remote working opportunities are out there. Talented and highly experienced in-house lawyers are likely to be attracted to roles within companies who value a work-life balance.
Data-driven technology-minded in-house lawyers

Whatever the question, for in-house lawyers, data is likely to be the answer. Gathering, structuring and analysing data is a way to support your company in finding investment opportunities. It's all about good business innovation and for lawyers working in-house, it's important to get in early on a project, be there from start to finish, and offer data, not opinions, to find ways forward. Product development, accounting workflow, being ahead of the likely legal questions that will come up - you can quantify these with data.
As recruiters, it's our job to match the right lawyers to the right in-house legal job. If you're looking to move roles, move in-house for the first time, or you're a company looking for an in-house lawyer, call us today.

Written by Jason Connolly