In-House Lawyers Showing Your Value
08 Nov, 2022
3 Mins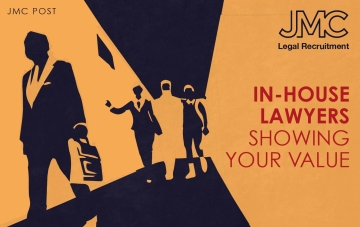 In-House Lawyers: Showing Your Value
Getting across your value as an in-house legal team can sometimes be tricky. But demonstrating your worth and measuring achievements is key to keeping business managers and stakeholders on side. So, how do you do it? We look at some ways you can prove your in-house legal team is a worthwhile investment.

Measuring success

There are several ways you can measure success. Look at the cost savings from dispute resolutions or contract negotiations. Demonstrate how you've improved compliance with regulations or increased protection of your organisation's intellectual property.

Matching goals and budgets

In-house lawyers can budget better by understanding the financial goals and objectives of the organisation, and then aligning the legal budget with those goals. Don't wait to be told you're costing the company too much money. Look at ways to save the company money, such as by using technology to automate tasks, or by outsourcing certain tasks to specialist providers.

Creating an annual report

One way to hold yourself accountable and to ensure your company recognises your value is to produce an annual report of the work done over the year. This can be a simple report, or form part of a presentation. But it should include:

an overview of your team's performance against KPIs

a detailed explanation of any cost savings achieved
case studies that show the value of your work
plans for the year ahead
This will give you a chance to reflect on the previous year's successes, high points, and areas for improvement.
Being proactive

Businesses have to be ready to adapt quickly and its important legal teams can do the same. One way to support companies with potential legal challenges is to be ahead of the curve and get in early on offering creative solutions.

So, keep up to date with changes in legislation, industry news, and case law. Consider conducting regular risk assessments if necessary too.

Demonstrating value can be a challenge, but it's important to show your business how you contribute to its success. By being proactive, demonstrating cost savings, and producing an annual report, you can ensure your in-house legal team is integral to the company's continued success, and worth investing in.

Connect with other departments

It can be helpful for your legal team to be across what's happening in other departments within your organisation. This can help you tailor legal advice and form stronger bonds with other heads of departments. Arrange in-person meetings, or if there are departments not within the same building, use audio-visual technology like Zoom or Microsoft Teams to connect. Ultimately, you should consider yourself partners, there to support the different departments with any legal challenges they face. So, don't wait for them to come to you.

Today, it's more important than ever for in-house lawyers to show their value to the businesses they work for. Whether it's through measures such as cost savings or increased compliance, or simply being ahead of the curve. So, get out there and prove how invaluable you are!

Whether you're a company looking for an in-house lawyer, or you're a lawyer looking for your dream in-house legal role, get in touch with JMC Legal Recruitment today.

Written by Jason Connolly