Bad Jobs Habits
21 Feb, 2022
5 Mins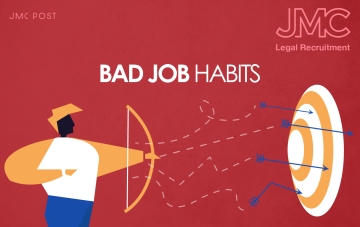 We all have a few bad habits. Nervous nail-biting, smoking on a night out even though you tell yourself you don't really smoke, checking twitter before you get out of bed in the morning…
We can't be perfect all the time, right?!

But there are some bad job search habits that hold you back.

Break these 5 habits and you WILL have more chances of landing that perfect job:
You recycle your CV and / or cover letter
When you are applying for multiple jobs, it's tempting to take a scattergun approach and hit a load of companies with the same CV and cover letter and hope one sticks. You don't need to rewrite your CV for every job application, but you should tailor the CV and letter to the specifics of the job you're going for. Yes, it takes more time, but you're much more likely to land an interview this way.
You use snooze-inducing business jargon
"Motivated self-starter", "Results-orientated professional", "multi-skilled thought leader" ...zzzzz...

Don't sound like a jargon-filled robot. You're a unique and amazing human being with experience to share and something to say. Claim your story with specifics, missions, goals, facts and a sense of drive and purpose.
You plan to 'wing it' at the interview

Interviews and improvisation are not a good mix. Even if you know you're quick on your feet, nothing replaces research into a company, the culture, the role, its values. If get a question you have no answer for, waffling won't work. Use what you've learnt to show you're proactive and keen.

You list responsibilities, not achievements

This can happen on your CV or in an interview. Don't say "I managed the company's social media presence." That just says what you were asked to do. It doesn't say if you achieved anything. How did it go? What was the result for the company? Instead, say "I created a social media campaign for the company that increased customer engagement by…" Add in specific data, results and benefits to the company.

Don't just be the hero in your own story

It's tempting to want to impress at an interview, but your talent should do the work. If you create a narrative where you're always the hero saving the day, you may sound conceited. Instead, mix it up with experiences of collaborating and working in a team successfully too. And invite a two-way conversation so you're not just talking about yourself the whole time.

Written by Jason Connolly