Are You Ready For Your Dream In-House Law Job?
06 Jul, 2023
20 minutes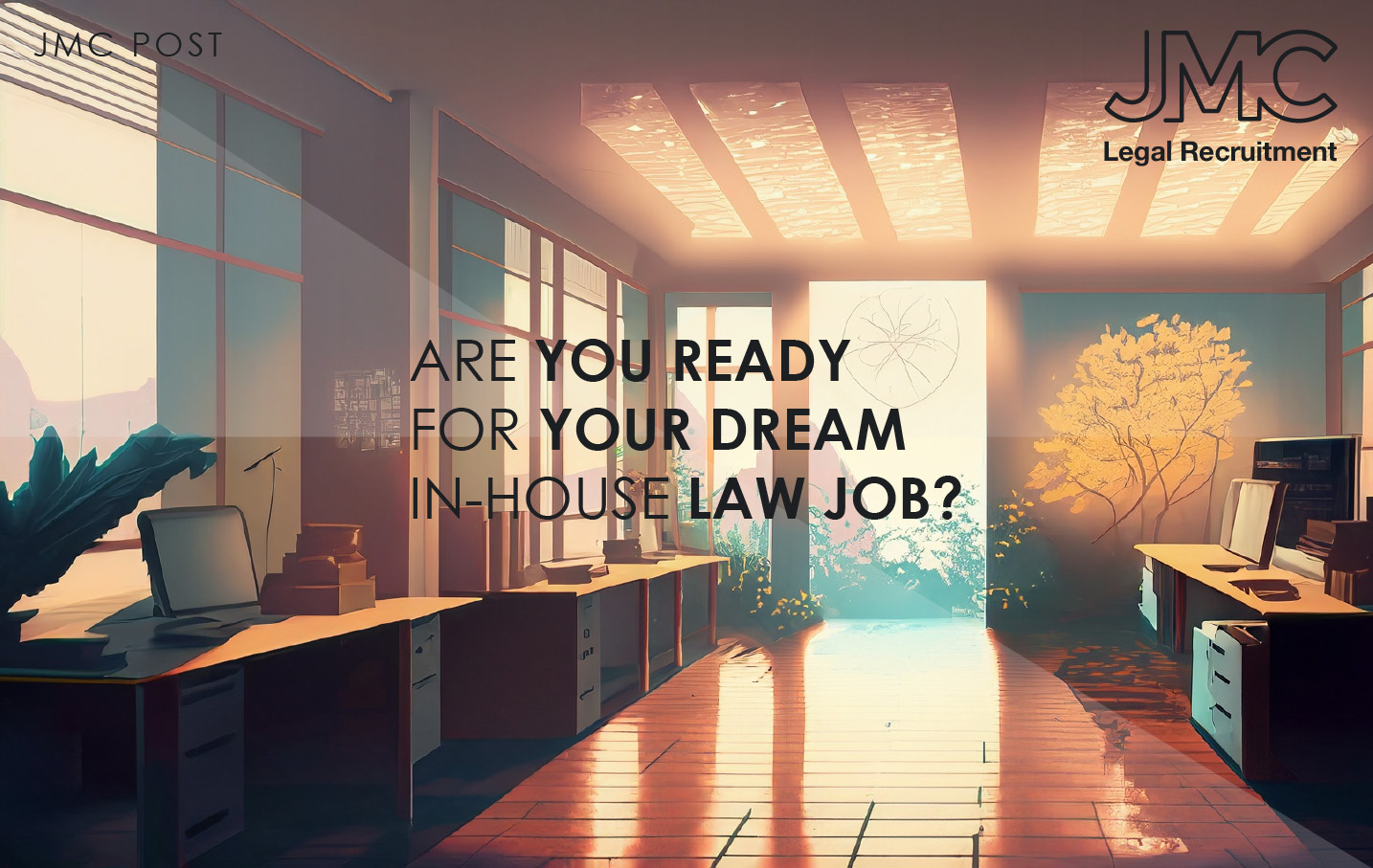 Are you ready for your dream In-house law job?
You're not alone. According to The Law Society, at least 25% of UK legal professionals now work in-house. Not only are more companies employing in-house lawyers, there's also an increasing demand for legal guidance across many parts of an organisation—from diversity strategies to environmental commitments. Even the virtual world needs real-life in-house lawyers to handle patents and trademarks, intellectual property rights and to protect from digital copycats. It's an exciting time to go in-house! This is your essential guide to in-house law and landing your perfect in-house law job.

What is an in-house lawyer?
Okay, let's start right at the beginning. An in-house lawyer practises law within an organisation, so you work as internal counsel. Unlike law firms that have multiple clients, you provide exclusive legal support, advice, and representation to the company you work for. Your job as in-house counsel is to ensure the organisation's compliance with laws and regulations, handle contract negotiations, manage litigation, and address various legal issues that arise. But there's no one-size-fits-all to legal in-house roles. Each job has unique demands based on the industry, the size of organisation and the internal structure of the organisation.

What do in-house lawyers do?
Your job is to serve as a trusted advisor, providing legal guidance and expertise to the company you represent. You ensure the organisation operates within the boundaries of the law, safeguarding its interests and mitigating risks. As in-house counsel, you are the go-to experts for all things legal within your organisation, whether that's drafting contracts, conducting legal research, or advising on employment matters.

Some companies may have a large legal team, meaning your role is more focused and similar (in some ways) to a private practice role. But there are smaller companies where you're the sole legal counsel and your role will be much more general.
How do I become an in-house lawyer in the UK?
The typical path is to get your qualifying law degree, or a conversion course followed by a Legal Practice Course (LPC). After that, you complete a two-year training contract with a law firm or organisation. Once qualified, you can apply for in-house positions or gain experience in private practice before transitioning in-house.

Here's a quick guide to nailing the CV and interview stage if you find an in-house legal job you're interested in:
● Do your homework on the company and industry you're looking to work for.
● Tailor your CV to show you're committed to working for them and know their industry.

● Dig into the legal team, their competitors, what regulations they face, and be across the latest relevant news stories.

● Be ready, at the interview, to expand on all your relevant skills and knowledge you've brought up in your CV.

● Have your answer to "Why do you want to be an in-house lawyer?" polished and ready to go!

We're also specialists helping lawyers launch successful in-house legal careers, so get in touch [contact page link needed] for further advice and support.
What are the skills do I need to be a successful in-house lawyer?
Speed

Be prepared for a change of pace! Maybe at your legal firm you can spend days or weeks concentrating on one thing. When you take on an in-house counsel role, the chances are you need to get stuck in right from day one and you should expect to juggle multiple challenges at once.

Specialist to generalist

In your law firm, you may find there's a focus on each discipline, whereas in-house you are more of a generalist lawyer expected to switch between different disciplines. You could be looking at regulations and procurement one minute, then switching to public and private sector contracts in another.

Cultural shift
In private practice, there's a certain mode and mentality to how you portray yourself as a lawyer to your clients, and commercial awareness is often about looking at the lawyers who have gone before you. When you're working as in-house counsel, you need to change your mindset and develop a commercial strategy and greater business awareness. In-house lawyers are working within a wider team with different skill sets coming together to achieve the organisation's business goals.

Risk shift
If you're a private practice lawyer, you are trained to be risk averse, hunting out those legal risks and minimising them. Whereas in-house lawyers need to be prepared to balance this risk with the commercial goals and business realities surrounding it. Commercial decisions sometimes come with legal risks.

Adaptability
In private practice, you have peer reviews, you're billing for your time, and there's a defined lawyer-client relationship. As an In-house lawyer, you need to be versatile in how you approach your work and adapt how you communicate with the organisation. Everyone is part of the same team, so you need to know how to support colleagues, but also to know when to challenge ideas.

Are in-house legal jobs in the UK similar?
No. Every business is different, and you need to find the right fit. When you're looking at legal in-house jobs on our job page or elsewhere, ask yourself:

● Does this fit with my values?
● What are my skills?
● Do I know what the business drivers are for this industry?
Look for legal in-house roles that play to your strengths and interests, align with your personal values, and suit your way of working. You may want to work in tech and get involved in innovation. You might find a banking firm is more suited to your skills. Perhaps in-house employment law is your passion. Get clarity right at the start about the sort of businesses you want to work with before you make approaches, hand in your CV and get to interview.
What is a typical in-house lawyer salary in the UK?
The average in-house counsel salary listed on Glassdoor is £75,854 (correct as of May 2023) not accounting for bonuses. In London, that figure jumps to the lower £90,000 mark. General Counsels can expect a salary of around £150,000. In comparison, according to the Law Society, the average salary for a solicitor working full time in private practice is £62,000 (Nov 2022).

Salaries are higher in London compared to North England and there are huge salary ranges depending on your practice area. Criminal law salaries are considerably lower than Magic Circle jobs, which offer starting salaries of £120,000 upwards. NQ salaries have increased in recent years, making them competitive with in-house General Counsel roles.
So, overall we see starting junior salaries for in-house roles are higher, but they can plateau at senior level. In private practice, salaries start lower but can pay more for senior partner positions.
The pros and cons of choosing an in-house legal role
Salary can be a big reason to choose an in-house role. But an attractive partner offer from a law firm may even tempt some in-house GCs back to private practice. So, apart from salary considerations, what makes an in-house role worth considering?

Here are 5 pros of going in-house:
No more minimum billable hour requirement: This is often what drives those long hours at law firms. In-house firms bring salaries with bonuses and benefits.
Work-life balance: Although not true of all in-house legal jobs, there are greater opportunities for flexible working and knowing your work schedule ahead of time.
A one-client focus: Rather than working with multiple clients, your sole client is your employer. So you can really get to know their needs and play a bigger role in shaping business strategies.
Work variety: Expect a diverse range of work and fresh challenges to keep you on your toes.
Your career opportunities are broader: You're not aiming for partner when you move in-house. Instead, you'll be working with upper management teams and executives and your career path is less fixed.
Here are 5 cons to an in-house role:
Your value is harder to prove: Without billable hours to show you deserve higher pay, it can be tougher to know how you measure up.
Self-sufficiency: You may find there's less of a team around you compared to a law firm. That means tasks you could previously pass on to someone else to do may land on your desk and stay there.
Perfection is the enemy of progress: In-house lawyers have to get things done and move onto the next thing. Insisting on perfection will not suit a fast-paced business environment.
Finding the right next career move: You may find limited opportunities at one firm and need to move companies to widen your opportunities to move up.
Working outside your expertise: There's a good chance you'll take on jobs outside your remit.
Not every lawyer suits an in-house role. You need the right skill set and versatility to adapt to ever-changing situations.
Starting your in-house legal job

Once you land your in-house legal job, go into it open-minded. Build relationships with stakeholders and understand what drives them. Get familiar with the strategic direction of the executive team and create a commercial approach to your legal work so you can deliver what they need. It's a challenging role, but if it sounds like the right fit for you, it could lead to a thrilling and varied career ahead.