70,000 NHS Workers Could Be Sacked Due To The Vaccine Deadline
25 Jan, 2022
8 Mins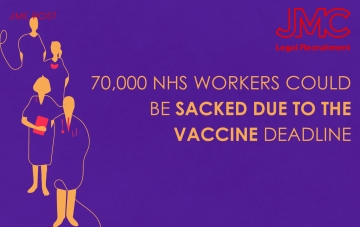 What just happened?
Over 70,000 NHS workers could be sacked due to the vaccine mandate deadline on April 1st, the debate around this type of legislation has come into the public debate once again.

What does this mean?

The UK government has been facing backlash after the amendment to the Health and Social Care Act 2008, which aims to enforce mandatory COVID-19 vaccinations for healthcare workers.

Therefore, those who refuse to take the vaccine would be fired or put on unpaid leave until completing both doses.

This vaccine mandate is set to be enforced from April 2022 on, with an expected grace period of 12 weeks. Nevertheless, the fears of worsening the already existing shortage of medical staff have pushed the Department of Health and Social Care to consider a temporary suspension of this measure.

Recently, NHS workers joined anti-vaccinators across the country on Saturday as they protested mandatory vaccination rules that see those who reject a Covid vaccine fired - with official layoff warnings due to be issued by health officials starting next month. In London, dozens of medical workers threw coats at police officers outside Downing Street, while others threw their uniforms in Trafalgar Square.

According to the report, the government is considering suspending its plans to make coronavirus vaccination mandatory for NHS staff, fearing that as many as 70,000 health workers could be lost as a result. The new rules will come into effect from April 1 - with the necessary dose break, employees who have not received their first vaccination by February 3 will soon begin to receive letters of termination. Both the Royal College of Nursing and the Royal College of Midwives have separately asked Health Minister Sajid Javid to suspend the action voted by lawmakers last month, with the first warning that "it would be an act of self-sabotage" in light of the staffing crisis affecting the NHS .

In contrast, in the US, the vaccine mandates have been widely enforced and debated in the United States of America, even if the Biden government failed to pass a rule requiring workers from large companies to be vaccinated OR be tested as regularly as once every week.

However, companies big and small have taken part in this: American Express, Deloitte, Delta Airlines, and even Facebook are some of the businesses that have decided to make COVID-19 vaccines mandatory for their employees.

How does this impact the legal sector?

Following the amended Health and Social Care Act 2008, questions could be raised about its possible extension to other professions.

Some voices argue that vaccine mandates could incentivise people to take the jab, and even improve the outcomes when people get infected. On the other hand, this could also raise serious concerns around how this can affect individual and civil liberties. Some of these rights are also guaranteed under the European Convention on Human Rights and previous rulings of the European court such as Vavřička and Others v. The Czech Republic (2021).

The lawsuit was originally filed by Czech citizen Pavel Vavritskaya, who was fined for refusing to vaccinate his children against tetanus, hepatitis B and polio. The court held that the public health benefits of obtaining herd immunity against infectious diseases outweighed an individual's right to privacy, and that Czech law contained sufficient provisions to exempt people who refused to be vaccinated for medical or religious reasons, but none of those provisions were proven. opposite parents.

In November 2021, the High court ruled that vaccine mandates for care home workers were considered proportional since they were protecting the right to life, also under the ECHR Article 2.

Furthermore, The Guardian recently exposed growing concerns in UK firms about whether or not to enforce their own vaccine mandates. This comes into consideration after a month or so into the Omicron wave, a highly contagious new strain of COVID-19.

Companies are struggling with the levels of sickness and self-isolation of their employees, but they also seem to be well aware of the moral and legal implications of these potential measures.

Assessing Firms:

#Allen & Overy LLP #Baker McKenzie #Herbert Smith Freehills LLP #Lewis Silkin LLP #Mishcon de Reya LLP #Simmons & Simmons #Addleshaw Goddard #Clifford Chance LLP #CMS #DAC Beachcroft LLP #Eversheds Sutherland (International) LLP #Linklaters LLP #Taylor Wessing LLP #Travers Smith LLP

Sources:

https://www.instituteforgovernment.org.uk/explainers/vaccine-mandates

https://www.bbc.co.uk/news/world-us-canada-59989476

https://www.libertyhumanrights.org.uk/advice_information/coronavirus-vaccinations-can-i-be-forced-to-get-the-vaccine/

https://www.theguardian.com/law/2022/jan/22/uk-firms-weigh-risks-of-forcing-their-staff-to-get-coronavirus-jabs

https://www.theguardian.com/society/2022/jan/09/coronavirus-should-the-uk-make-vaccination-mandatory

https://inews.co.uk/news/politics/covid-vaccine-mandate-nhs-staff-paused-government-workers-sacked-1416578
https://www.itv.com/news/2021-11-09/covid-vaccines-to-be-compulsory-for-nhs-staff-in-england
https://www.gov.uk/government/consultations/making-vaccination-a-condition-of-deployment-in-the-health-and-wider-social-care-sector/making-vaccination-a-condition-of-deployment-in-the-health-and-wider-social-care-sector
https://www.theguardian.com/world/2022/jan/05/ministers-must-act-now-on-nhs-staffing-crisis-health-chiefs-warn
https://www.dailymail.co.uk/news/article-10430205/NHS-staff-join-anti-vaxxers-London-Newcastle-Manchester-protests-against-Covid-jabs.html

https://www.msn.com/en-gb/news/uknews/covid-news-live-new-ba-2-variant-under-investigation-as-ministers-consider-delaying-nhs-vaccine-mandate/ar-AASZDu5

https://www.bbc.co.uk/news/world-us-canada-59989476

https://www.bmj.com/company/newsroom/pay-people-to-get-covid-19-jab-to-ensure-widespread-coverage-says-leading-ethicist/

https://hudoc.echr.coe.int/fre#{%22itemid%22:[%22001-209039%22]}

https://www.theguardian.com/society/2022/jan/09/coronavirus-should-the-uk-make-vaccination-mandatory

Written by Jason Connolly