15 Little Wins
02 Feb, 2022
8 Mins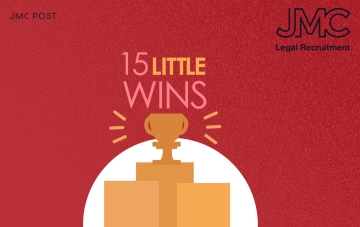 Now it's February, how are your New Year Resolutions going?
You may have already tried a few personal missions, perhaps with (YAS queen!) success, (meh) partial success or (doh) total failure.

So here are 15 little things you can do. They're simple work changes that need take minimal effort, time or cost to make you feel you're winning this February.

Because, who needs yet another enormous challenge, right?!

Type "unsubscribe" in your email search and quickly clear out subscriptions you don't read anymore.

Set yourself to 'Do Not Disturb' mode when you need to get deep into a task. Silence notifications and don't check emails for a few hours.
Track your time. It helps you stay accountable.
Get up and move around every hour. It's so bad to sit and slouch for hours. Do a quick chore. Take a short walk. Enjoy a screen break.
Write tomorrow's to-do list at the end of today. This will help you keep on top of your workload and make it easier to enjoy a work-free evening.
Have a junk draw on your desk and scoop any end-of-day mess into it. Yes, it's just hiding it, but it's a mind trick that works. Tidy out the draw every few days.
Get some plants for your desk to freshen things up. Even fake ones can have a calming effect.
If any task takes only 2 minutes to do, do it now. Free yourself from those minor jobs that can niggle away and distract you.
For tasks that take longer than 2 minutes, write it on a to-do list and come back to it later.
Have a 'stop doing' list where you write time-wasting habits you want to stop and write what you should do instead.
Set two deadlines - one for the client and an earlier one for you. It helps you keep on target and frees up time to check your work properly.
Follow the 70% rule. If someone else can do 70% of it, delegate it.
Schedule time to respond to emails. Only respond outside of this time if it's super-urgent.
Stop and slow down. Don't run blindly between tasks. Instead, deliberately slow down to help you concentrate.
Just get started. Even if you only spend 5 minutes, start that new task and you've already got past one of the biggest obstacles.
Written by Jason Connolly